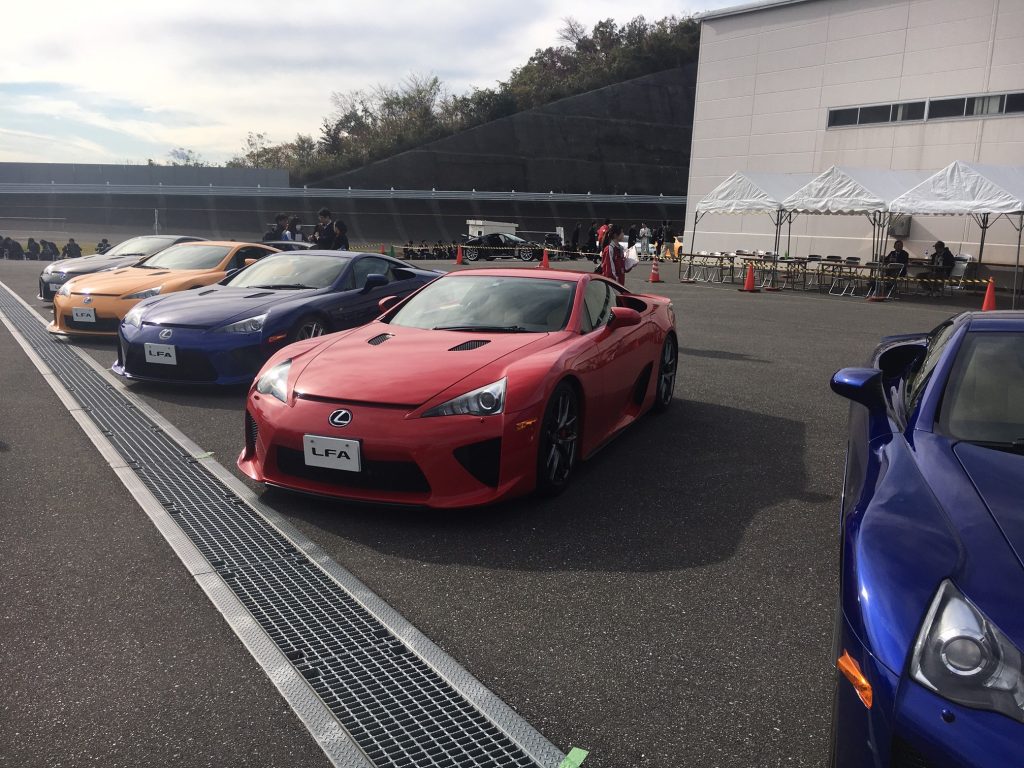 On Saturday November 17, 2018, the seventh LFA & MIRAI Test Drive Event was held.
Over 180 students from 17 technical high schools in the prefecture participated in the event, which was held at the Ai-Ring test course of Akebono Brake Industry co. Ltd. located in Ogawa, Iwaki City. Staged with the wish of imparting dreams and hopes to young people who were traumatized by the Great East Japan Earthquake, this year marks the seventh event to be held.
After taking a ride in the LFA, the students shouted in amazement at the sheer speeds of over 250 kph, expressing their admiration for the Made in Japan LFA.
They also took a ride in the fuel cell car MIRAI, to experience a different type of cutting edge performance to the LFA.
The engine in the LFA was exhibited for the first time at this event. Katsuhiro Suzuki (from Tomioka, Fukushima Prefecture), the project leader of Yamaha Motor who participated in its development, explained the mechanisms of the engine. There was also a special lecture on vehicle development (featuring Haruhiko Tanahashi, chief engineer of the LFA, and Yoshikazu Tanaka, chief engineer of the MIRAI), and a talk show (featuring racing driver Akira Iida), giving the students a valuable insight into the realities of manufacturing for when they go out to find work themselves.
This annual event is made possible by the cooperation of many supporting companies and the work of many volunteers, in order to give young people ambitions, hope, and a sense of their future.
Our hope is that the event will serve as a foundation stone for the youth of Fukushima for 10 or 20 years into the future.